by Jessica Newby
In March of 2021, I visited the department as a recently admitted prospective student. Shortly after an introductory meeting, one of my prospective advisors, Dr. Jessica Marie Johnson, sent me a follow up email. It was an invitation to attend a weekly graduate seminar in the department known as The Black World. Julius Scott would be visiting to discuss and answer questions regarding his book, The Common Wind: Afro-American Currents in the Age of the Haitian Revolution. As a graduate student with research interests in the eighteenth century, The Common Wind was already on a list I had been keeping of books I wanted to (eventually) get around to reading. As a prospective student, I was also very curious as to what a graduate seminar at Hopkins was like–particularly a seminar that emphasized Black History.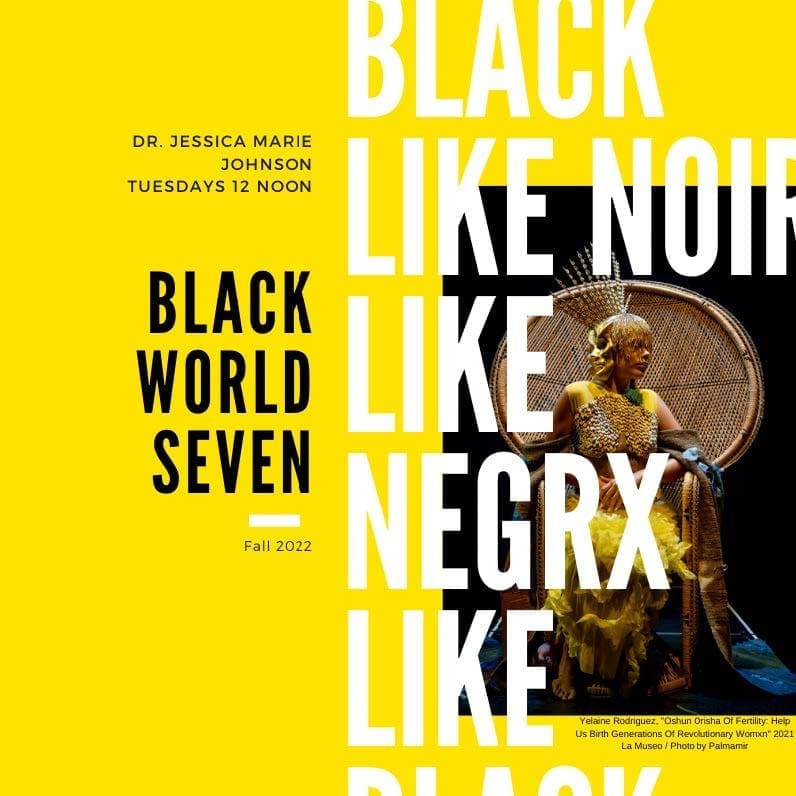 Image: Logo for the seventh session of the Black World Seminar
A New Focus Every Semester
The Black World faculty rotate responsibility in the role of convener(s). As a result, each semester brings a fresh and diverse syllabus incorporating scholarship from multiple disciplines including history, history of medicine, English, political science, philosophy, and geography, among others. The course also spans a wide chronology. It is not uncommon to have the authors of the week's texts visit seminar, field questions, and engage in conversation with Black World seminarians. In addition, graduate students and faculty are encouraged every semester to submit and circulate works in progress and receive critical feedback and engagement.
Thus, even within the familiar graduate seminar routine of reading books and/or articles and coming together each week with peers and colleagues, the Black World continually exhibits and asserts itself as a space that defies confinement to any one discipline, routine, or other form of enclosure. Two questions are posed at the start of every new semester: what does it mean to write history "Black?" How can scholars committed to this practice challenge the silencing, erasures and dehumanizations of white supremacy–whether by bibliography, method, composition, and/or archival practice? The interdisciplinary syllabi of Black World indicate that these are not questions solely reserved for the historian, or even solely for the scholar who studies Black people of one particular time or place. That these questions were being asked–indeed, that these commitments were being made–within a broad and prestigious history department like Hopkins was new and refreshing as a prospective student. Since coming to Hopkins, I have also found it generative.
An Affirming Experience
The existence of the Black World Seminar had a transformative impact on my progress in my first year. The guiding questions, interdisciplinary readings, and weekly discussions with colleagues proved critical to my thinking at a time when first year graduate students are encouraged to be reading, researching and thinking ahead to the writing of their first year papers. By the time that I began writing, I did so with those questions, readings and discussions informing and guiding my research and arguments.
In the weeks that followed, fellow Black World seminarians– faculty and graduate students– read my drafts and offered immensely helpful feedback. In March of 2022, a year from when I attended my first Black World seminar as a prospective PhD student, I was sharing and taking questions on a draft of my very own work in Black World in anticipation of my first-year paper presentation that would take place in April. These were incredibly affirming experiences.
While participation in the Black World seminar itself is largely devoted to the discussion and engagement of texts, the faculty conveners have also been intentional in cultivating it as a space for collaborations and projects that take place across departments and institutions, and even outside of the academy. In this respect, I have found the Black World to function as both seminar and ecosystem.
Relationships forged within the Black World community led to my becoming a Solidarities Fellow with the Kitchen Marronage Community Knowledge Lab of the Diaspora Solidarities Lab (DSL) co-founded and co-directed by Black World faculty and Fall 2022 convener Dr. Jessica Marie Johnson alongside Dr. Yomaira Figueroa-Vásquez, (Associate professor of global Afro-diaspora studies in the Department of English at Michigan State University) and Dr. Tao Leigh Goffe (Assistant professor of literary theory and cultural history in the Department of Africana Studies and the Feminist, Gender, and Sexuality Studies Program at Cornell University). Digital Solidarities Lab is a multi-institutional Black feminist partnership that supports solidarity work in Black and Ethnic Studies conducted by undergraduates, graduate students, faculty members, and community partners.
Black Political Thought and History Workshops
In early July, I attended the third meeting of the Black Political Thought and History Workshop in Bordeaux and Clérac, France, co-organized by Black World faculty member and Spring 2022 convener Dr. Minkah Makalani alongside co-organizer, Dr. Shatema Threadcraft (Associate Professor of Gender and Sexuality Studies, Philosophy and Political Science at Vanderbilt University) The workshop was co-sponsored by the Center for Africana Studies, of which Dr. Makalani is also the director. Among the events of the workshop was a walking tour of downtown Bordeux given by Mémoires et Partages, a French-based activist organization that performs memorialization work around legacies of the French slave trade and French colonialism at the local, national and international level.
Jessica Marie Johnson has described The Black World as a "center of gravity," for much of the dynamic and important work that is being done within the History department. Throughout my own first year at Hopkins, this description has repeatedly proven true. Black World has been seminal in the guiding practices and commitments of my own research. It has shaped and diversified the focus and composition of my field lists. It has had a direct role in the building and expansion of my intellectual community. It brought immense professional and personal enrichment to my first year as a History department graduate student.  In retrospect, it feels entirely fitting that my introduction to Johns Hopkins was through the Black World seminar. From that initial seminar, and continuing into the present, those two hours a week continue to have a powerful impact on my development as a historian.
The Black World meets every Tuesday from 12:00 pm to 2:00 pm, EST. Join us.